The drawing below describes the Concept Plan for the refurbishment and redesign of the Cardinal Glen Park as developed within the City of Ottawa Parks and Recreation department. This concept can (and will) become reality in 2018 with construction slated to be completed before the Annual Cardinal Glen Canada Day Picnic on July 1st.
Construction is already under way and our anticipated completion date for the redesigned park is early summer of 2018.
If you use the View – Zoom feature of your internet browser, you will be able to get some idea of what features and functions are planned for the redesigned park.  Multi-use is the order of the day, with provisions for all ages of children and for adults as well.  Highlight features include: a shuffleboard table; a new gazebo; new games and picnic tables; an updated water spray unit; distinct and separate play areas for preschool and school aged children; etc.
For an E-mail version of this diagram that is much clearer to see, please contact Allan Martel at allanmartel@allanmartelconsulting.com .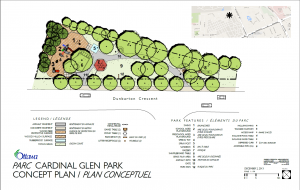 The costs associated with this redevelopment align quite closely with the amount of Section 37 funds expected to become available and Councillor Nussbaum has convinced the City of Ottawa to make funds available earlier than would normally have been the case to enable construction of the new park in 2017 – 2018.
As with any major redevelopment such as this one, your BoD is most interested in hearing your views. We have been consulting with the community for over two years on this project and the concept described herein meets the overwhelming majority of expressed community interests.  Your BoD is solidly behind this concept and hopes that you too will find it to be an exciting and appropriate addition to our community.